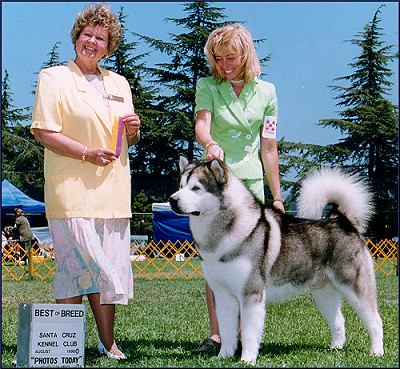 Greyson is SilverIce's foundation Male. He was purchased from his Breeder Kimberley Meredith-Cavanna of Atanik Kennels. Greyson is an outcross from two very strong Breeding lines Kassan and Nanuke. These two lines combined with SnoKlassic has made some of the most Beautiful, Sound malamutes for SilverIce Kennels.
Greyson is a Grand-Sweepstake winner and Multiple Group Winning dog. He has a Best in Specialty and a Best in Show and also holds a CGC title. Greyson has produced many beautiful champion puppies; all his puppies have wonderful temperaments. He himself is a wonderful companion with an outstanding personality. Many people wanting malamutes have come to SilverIce to purchase puppies after meeting Greyson. He is a true ambassador for the Alaskan Malamute breed.
We are very proud of our Greyson kids: Savannah, Little Diamond, Artic Blizzard, Super Cooper, Green Bean, and Graeagles' Uno, Tonopaws' Fanny Anne, Star and Hunter.