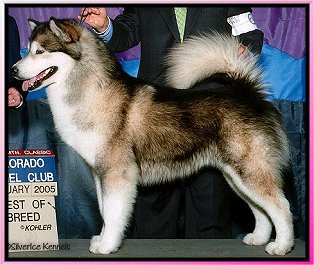 Cindy is SilverIce's "Super Model". She was named after the other super model Cindy Crawford. Both beautiful girls have an extraordinary head piece, the perfect body, and movement that eases them down the catwalk or in the dog show world the ring.
Cindy has far exceeded any of our expectations. She was 2004 pedigree winner and finished #1 in both All Breed and in Breed standings 2004. Also Cindy was 2004 National Specialty winner. Currently in 2005 Cindy has won 9 groups,10 Specialties, and four Best in Shows. She is heading for the all time Best in Show winning Bitch record in her breed. To her merit Cindy is also a great producing bitch with three Best in Show sons, and another son Cruise currently being campaigned.
SilverIce Alaskan Malamutes would like to Thank Mike Stone for his beautiful handling of Cindy, and to Kimberly Meredith-Cavanna for breeding this lovely girl, and giving us the opportunity to own and show her.
Grand Veteran Sweepstakes at 2008 Regional Sweepstakes

Best of Breed at 2009 CAMEO Specialty from Veteran Bitch Class